Meetings & celebrations
In case you still haven't found the perfect location for your next event, at Liebesbier you have just come to the right place! We offer various facilities which can be booked for your events – no matter whether you are planning a celebration for your club, a birthday party, a wedding or a presentation.
Inquire now
Liebesbier means celebrating better
We bring together what belongs together: Beer, conviviality, joyfulness, partying! You can book our "Brew hall" for your own events like beer and food tastings as well as for private functions and corporate events.

The "Brausaal" (Brew Hall) area is 220 sqm. It has a capacity of up to 350 people unseated and up to 220 guests seated. It features a permanently installed stage as well as a high-performance projector, screens and top-notch light and sound equipment. Additionally, you can book the "Alte Abfüllerei" (Old Filling Station) for another 100 guests. Catering is, of course, provided: We serve the best dishes from our favorite restaurant kitchen for you and your guests - finger food, flying buffet or 5-course gala dinner. Everything is possible.

Inquire now
Meetings at the Conference Center
You are looking for the right place for your next event or meeting? Maisel & Friends Conference Center offers special and individual solutions.

Our facilities, equipped with state-of-the-art technology, are perfect for conventions, seminars, corporate conferences, staff and company meetings. Our Broadcast Studio has been installed especially for online and hybrid events. Its 165" FULL HD LED wall and cutting-edge camera technology provides the best conditions both for photo and video productions and also for digital & hybrid conferences or meetings. Our technical equipment provides live-streaming opportunities for speeches and presentations with up to four speakers or for recording presentations, trainings, short video clips or other video contents.


Inquire now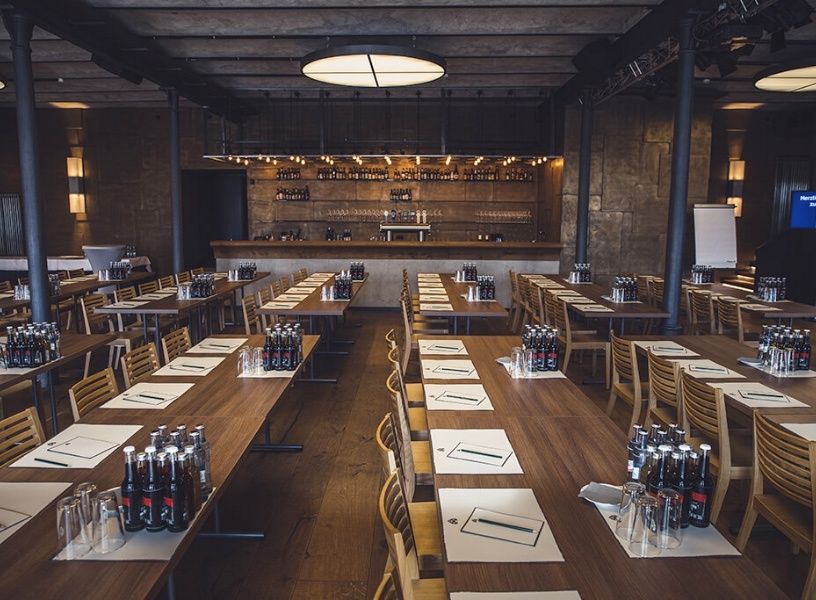 Brew Hall
Our Brew Hall is the perfect place for weddings, birthday parties, corporate events, presentations or concerts. The location has an area of 220m² / 2,400ft² and has a capacity of up to 350 people unseated or max. 220 guests seated. The Brew hall can be darkened if needed and is equipped with a permanently installed stage, high-performance projector and screen as well as professional sound and light technology. A separate and private terrace can be used for aperitifs or coffee breaks. An additional and separate anteroom can serve as reception area or for the positioning of a buffet. WiFi connection is, of course, available in the entire area.
>220m²/>2,400ft² for up to 350 people
big screen (4 m x 3 m / 13 ft x 10 ft), projector with audio & HDMI ports
stage (5 m x 4 m x 0,86 m / 16.4 ft x 13 ft x 2.8 ft)
space for DJ console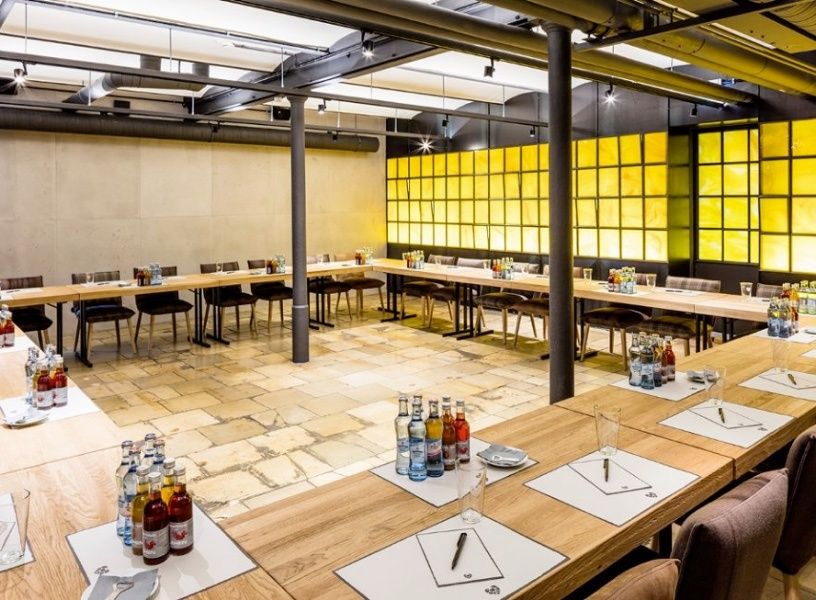 Conference room Callista
Are you planning seminars and meetings but need a special atmosphere? At "Callista" you are in good hands. It has its name from the aroma hop variety "Callista" cultivated at the hop research center in Hallertau, a region well-known for its hop plantations. The room is equipped with WiFi, projector, screen and flip chart fulfilling all requirements of a modern seminar space. Walls with discreet indirect lighting create a pleasant and unique ambiance.
85m² / 915 ft² for up to 40 people
big screen (4 m x 3 m / 13 ft x 10 ft), projector with audio & HDMI ports
high speed WiFi in the entire area
flip chart and conference materials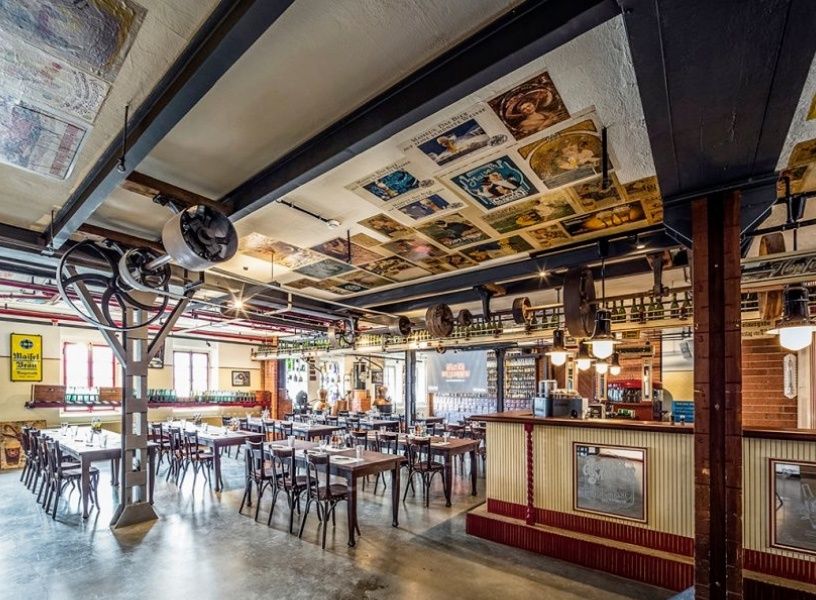 Distillery & Filling Station
Our Distillery (185 m² / 2,000 ft²) has a very charming and special atmosphere and is the right place for events with up to 130 people. In former times, Maisel beers were filled here. Its authentic American bar counter is an inviting place for a relaxed chat. Decorated with historic items like a former bottle filler, vintage advertising posters and a big collection of beer bottles from around the world, the Distillery is a true eye-catcher. The adjacent Filling Station (65 m² / 700 ft² ) can serve as reception or buffet location. Its capacity is for up to 40 people.
185 m² / 2,000 ft² Distillery + 65 m² / 700 ft² Filling Station
big screen (4 m x 3 m / 13 ft x 10 ft), projector with audio & HDMI ports
space for DJ console, 2 x wireless microphones (headsets optional)
big bar counter with beer pump, refrigerator and coffee machine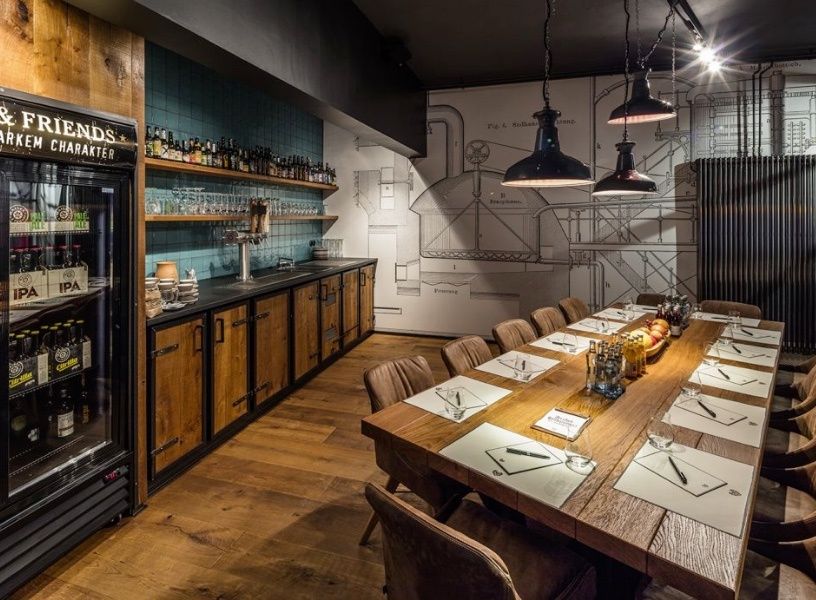 Tasting Room
Our Tasting Room (35m² / 380ft²) features a big table for up to 12 people and can be used in a number of ways. It is equipped with a dual faucet beer dispenser and a refrigerator which is perfect for tastings, beer seminars and trainings and has an integrated 55" HD flat screen TV set. The Tasting Room's ambiance is unique as it is located at the center of the fermentation cellar.
35m² / 380ft² up to 12 seats
55" HD flat screen TV
High speed WiFi in the entire area
Beverages and food from the Liebesbier restaurant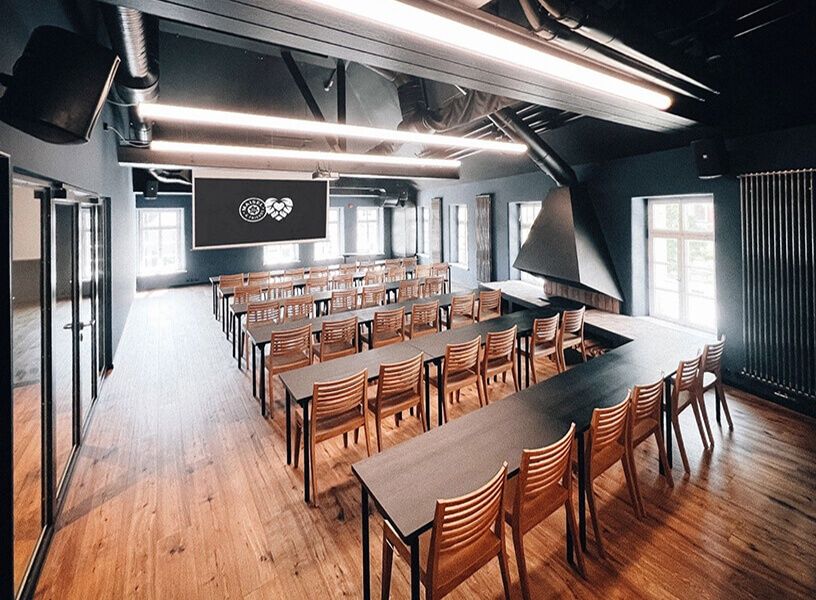 The Lab
Today, the brewerie's former "Lab" serves as an exclusive event location featuring cutting-edge conference facilities. The big conference area "Galaxy" with its open fireplace is complemented by two breakout rooms, called "Ariana" and "Amarillo". All three rooms are connected by sliding doors and can either be used as one shared space or, alternatively, as separate event venues. The complete area is air-conditioned, can be lit by daylight and is, of course, Wi-Fi enabled. The venue is equipped with high speed internet access including LAN connections and can host online or hybrid meetings as well. A big open show kitchen – a further highlight – is connected to a reception area.
100 m² + 24 m² + 24 m² (1077 ft² + 258 ft² + 258 ft²) + show kitchen for up to 66 people
Projector with big screen (3,5 x 2,2 m / 11.5 ft x 7.2 ft) and sound system
WiFi in the entire area
Air conditioning
Beverages and food from the Liebesbier restaurant
Virtual tour of the venues
Explore the event locations in advance from home - with our 360° tours!
Liebesbier Bayreuth –
the perfect location for your event
various facilities for events of any size | state-of-the-art stage, sound and lighting equipment | parking next to the location | individual dining recommendations from classic to creative | separate private terrace for aperitifs, receptions etc. | private entrance & big entrance hall | private toilets & cloakroom

Do you want to celebrate here? Feel free to send us an inquiry – that way we can make you an individual offer - fast and simple!

Inquire now
Contact us!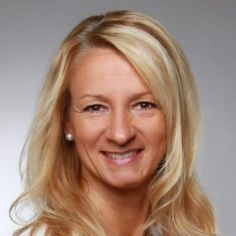 Stefanie Meister
Your personal contact for events

+49 921 401 247
veranstaltungen@maiselandfriends.com

I plan your event and you can discuss your individual wishes with me.
I am looking forward to your request!