Liebesbier: Urban Art hotspot in Bayreuth
Our unconventional concept with its unique art project has made the world's urban art community come to Bayreuth and it makes art accessible for everyone.
Urban Art transformed to Sleep Art –
at Urban Art Hotel by Liebesbier
The concept of our Urban Art Hotel is: "Smart & Art!" We do, of course, want to offer our guests a comfortable and modern check-in experience, but we also want to make every night in one of our rooms turn into a unique and memorable stay. Every single of the more than 70 rooms has been decorated with a wall painting by an artist from the street art community in the artist personal style. We are happy being able to get a lot of internationally well-known artists on board. Sleep directly beneath a unique piece of art at the Urban Art Hotel – only available and exclusively at Liebesbier!

Urban Art Hotel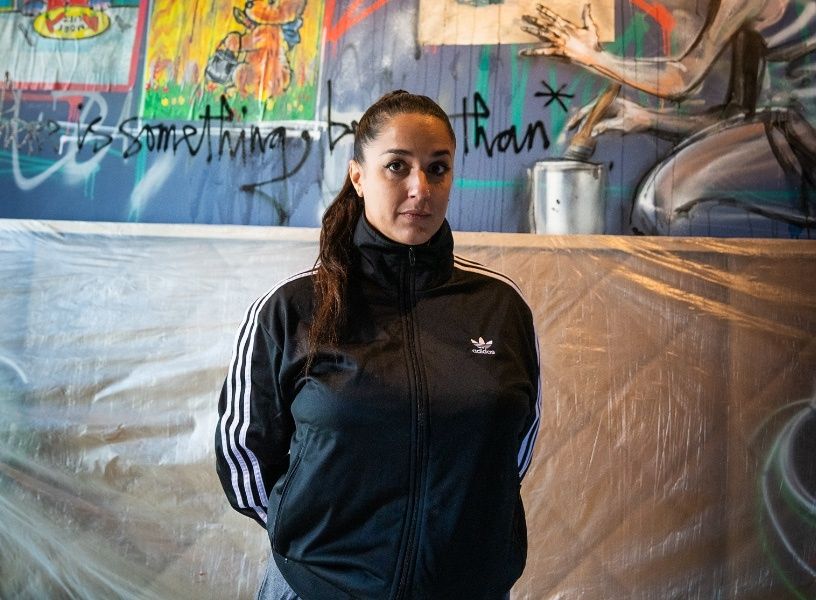 A unique urban art project thanks to Hera of Herakut
Jasmin Siddiqui, born in Frankfurt in 1981, is part of an artist duo from Berlin. She has joined forces with Falk "Akut" Lehmann" to form "HERAKUT". They have been working in the graffity community since 2001. Their work focusses on balancing the opposites. This concept is also reflected in Jasmin's alias Hera – named after the olympic goddess known for her destructive temper – which is in stark contrast to her real name Jasmin, a beautiful and mellow flower. In the numerous artworks she has created over the past 20 years she demonstrates that things allegedly small and weak can have an enourmous potential of power. Some of the bigger size pieces carrying this message are painted on facades in Sao Paolo, Moscow, Melbourne and Miami.

Thanks to Hera's international connections to some of the big names of the urban art community we were able to plan and realize a very unique design concept for our Liebesbier Hotel – we owe it to her as creative director that every room is now decorated with an original work of art.
Urban art gallery
Get an overview and browse the artwork of the Urban Art Hotel.
Get to know all of the artists and learn more about their work and the artwork at the Liebesbier Restaurant & Bar.
Liebesbier Restaurant
Dining amidst artwork and collector's items
In our restaurant you are surrounded by art & design as well: Nineteenth century brick walls meet modern industrial style, collector's items join contemporary art and cosy corners contrast with spacious brew house atmosphere.