The Richard Wagner Festival
Once every year, Bayreuth attracts guests from around the world to attend live performances of Richard Wagner operas at the "Festival Hall on the green hill". But that also means, finding a suitable hotel might be not that easy during the time of the festival. So, why not spending your time and the nights at the Urban Art Hotel of Liebesbier? It's no-fuss, fast and, due to smart-hotel access, can be booked digitally.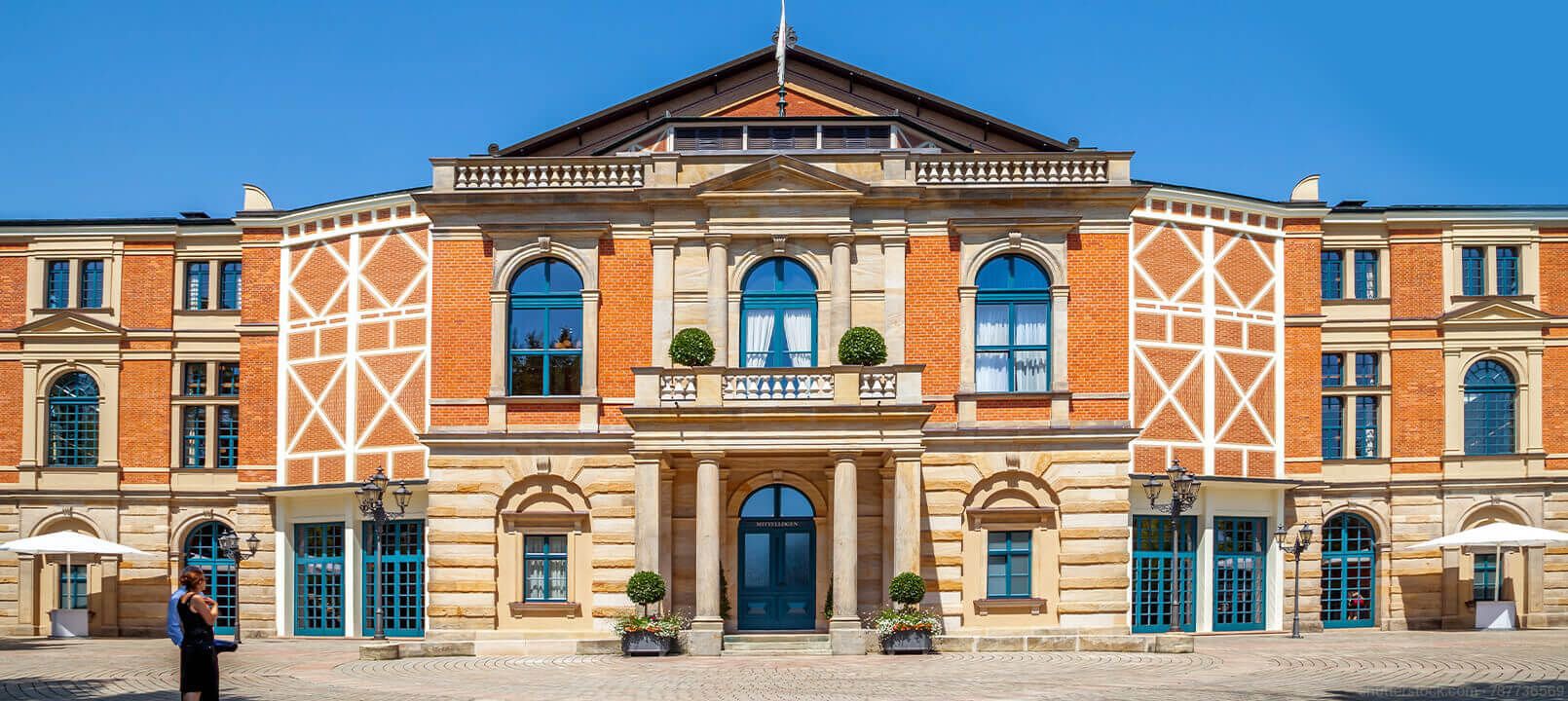 The annual cultural highlight in Bayreuth
During the time of the Wagner Festival fans and the political elite meet in Bayreuth to attend live performances of Richard Wagner operas like The Rhine Gold, The Ring of the Nibelung, Parsifal or Tannhäuser at the Festival Hall, famed for its unique acoustics. But Bayreuth can also pride itself in a lot of cultural and regional history off the festival: Guests love exploring Margrave Wilhelmine's magnificent buildings, walking in Jean Paul's footsteps, relaxing at the Court Gardens or enjoying the Baroque flair of the majestic Eremitage parklands.
Overnight stays at Festival Town
The festival time of the year with all the international guests means high season for the hotels in Bayreuth. Accordingly, finding a hotel room can be tricky. That's why Liebesbier Urban Art Hotel now offers a completely new and unique concept: With us booking your stay is fast, no fuss, no trouble and it can be made last-minute on our digital hotel portal. At our Smart-Hotel you can enjoy a relaxed and convenient stay on your own in a rather quiet neighborhood in the town center of Bayreuth. Check-in yourself by smart phone after booking your room online. No annoying waiting at the reception, no overcrowded hotel lobby and no busy telephone lines.
Liebesbier Restaurant, Bar & Urban Art Hotel
Get ready for the execptional style and unique atmosphere at Liebesbier. At the Urban Art Hotel you'll sleep inside a worldwide unique art project: Every room has been designed by an artist from the urban art community and designed according to the artist's individual ideas. This is the place for you to spend your very own "Night at the museum" with a unique piece of art serving as your canopy. But we also regard art highly when it comes to our restaurant and bar, situated just opposite the hotel: the authentic industrial style is complemented by several big and small artworks
Book your room now
Our online booking system is simple and fast. See for yourself! Our Smart Hotel with its individual street art rooms and top-modern atmosphere will surely excite you. Check-in without any waiting time, whenever you want and enjoy a pleasant stay off the usual festival hullaballoo.