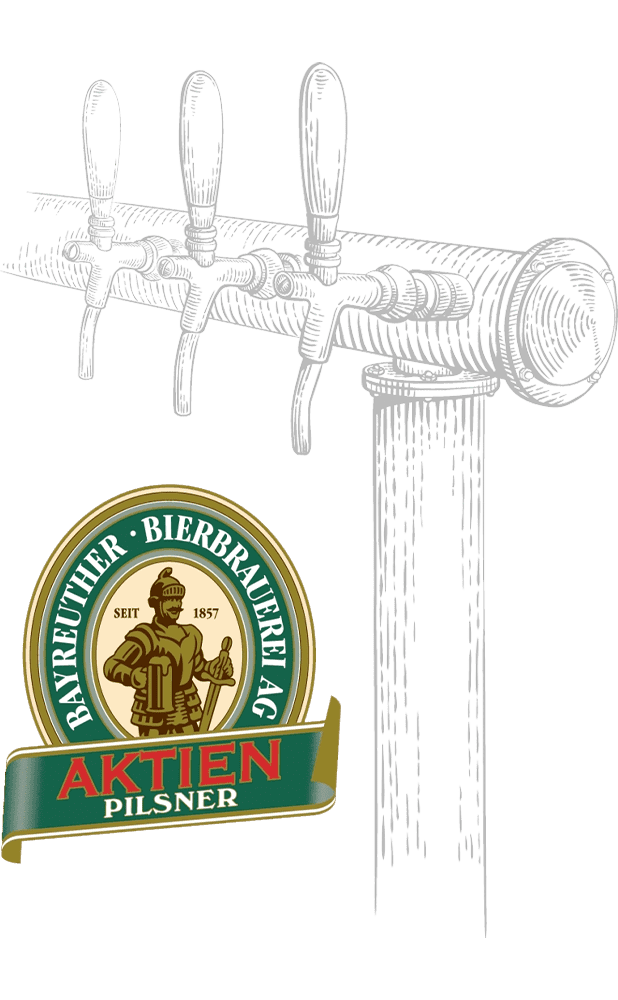 Aktien Pilsner
Pilsner by Bayreuther Bierbrauerei AG
"Aktien Pilsner" is a dream Pilsner, an indulgence anytime and at any place you are. With a golden sheen and a fantastic fluffy foam. A pleasant hop scent and a touch of green grass, fresh hay and a subtle citrus note pamper the nose. Our Pilsner is made from best ingredients and brewed fulfilling highest quality standards. Something you can feel at the very first sip. It has a fizzy-fresh character with a marvelously harmonious hop bitterness. Nicely dry and enduring finish. "Aktien Pilsner" has retained its distinct character over many, many years and has become a true constituent of beer culture history.
Brewery
Bayreuther Bierbrauerei AG
Country

There's even more for the connoisseur
Our whopping range of beers is one thing but you can, of course, enjoy various other alcoholic beverages and soft drinks as well. Choose from our big and changing range of drinks at the bar.
Have a seat!
Enjoy a place in the sun in our beer garden together with your friends, meet up for an after-work drink at the bar or find a cozy corner for a romantic dinner. Whatever it is you are looking for, at Liebesbier you will find just the right place for it. Book online now. Your table is just a few clicks away.